Artist: Geschwister Schumann
Title: Hunting through the night
Label: symbiont-music
Format: 320 kbit/s, mp3, CBR
Cat.No.: sm024
Releasedate: 21.07.2011
Style: techno, minimal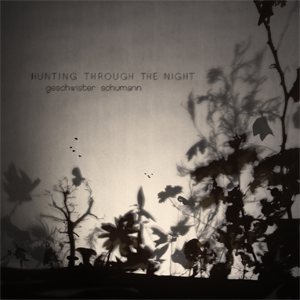 01 // Hunting through the night 06.51 min
02 // Standstill 06.44 min
03 // Strange time 05.30 min

Whilst some of us may spend nights vainly searching for released
material of the two charming artists others joyously abjure their sleep to visit their live shows. Both are accommodated with this new release as commitment rewards the senses. Pola's and Max's awareness of this is evinced by three new pieces which allow one to surmise how much authenticity music requires as a media to vie with the night, to escape or to chase it – but decide for yourselves.
Hunting Through The Night
As if to challenge the moon the curtain falls forcefully but cushy to unveil a set of funky organs and a drifty pumping groove. These words will open hearts of all restless minds among us for they are expression of a force with dark and pristine origin. In our inexhaustible thrill of the chase we draw repose from the interlude – yet it only serves the return of an almost obsessive desire for the inexperienced .
Standstill
In a confidingly temptatious manner the warm and mellow soundscape engages with clear, optimistic and uplifting percussions – an interchange that leads light-footedly to the inexorable grounds of probing questions. Hope enters the soundscape accompanied by an interplay of indeterminate
voices only to then vanish through soulfully arranged strings in the audible sand of time.
Strange Time
Fragile, seeking tones open up previously unknown sound and tempo atmospheres. They mingle with an incipient downbeat and merge into a longing and melancholic composition
that provides room for deep and emphatic vocals. A Development towards more mature lyrics and sounds evinces and enables Geschwister Schumann to tread new promising paths that whet our appetite for more.

---