A long wait results in funk:
symbiont-music presents the release no. 26:
Gitte Verfuehrt – Zwischenraum & Zeit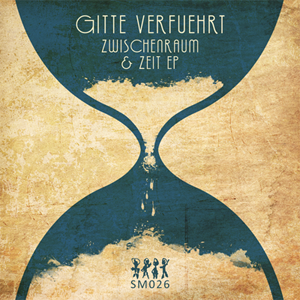 (sm026) Gitte Verfuehrt – Zwischenraum & Zeit by symbiont-music

The music-lover Gitte Verfuehrt comes along casual and delicate, infecting us with his gentle adaption of acoustic and electronic. 4 enticing tracks with funky guitar riffs an jazzy pianos, combined with swinging percussions and rich basslines vault immediately into the world of Gitte Verfuehrt´s sound aesthetics.
He is supported by Samuel Fach, whose release Simple Pleasure (tok016) meteoric predicated it´s position among decks Top10 in summer 2011.
The outcome of a long and acribic work is a release, which pre-eminently bribes with its organic and winsome synthesis of sound, far away from lusterless and pure functional arrangements. So Gitte Verfuehrt shows up, that there are more possibilities between space and time, than the hearing expects.
1. Zeit (original Mix)
"Zeit" comes up with jigging bass, swinging and perfectly timed inviting the open and gentle Fender Rhodes, to create a warm-hearted rolling step dance in rhythmical accomplishment.
2. Zwischenraum (original Mix)
"Zwischenraum" melts organs and guitars and create a funky mixture of "soon-come" attitude and apparently never ending cheerfulness. Unerringly percussive elements thrill the listener straight into a jazzy jamsession, whichs tribute to the lightheartedness of musical expression is unmistakable.
3. Zeit (Samuel Fach Rmx)
Samuel Fach interprets "Zeit" for the benefit of the stage that is the world and creates flirring heat with straighter rhythms, pumping offbeat bass , forcing the condense moisture to the clubceiling.
4 . Zwischenraum (Kapitel Sekt Rmx)
As "Kapitel Sekt" appears, the seducing countenance of another ensemble penned by the creator himself arises. Leading with kind of freeriding disentanglements to a nearly physical outcoming electro-jazz-band, the track once more shows Gitte Verfuehrt's musical well-engineered skills.
supported by
Rich.vom.Dorf, Sebo, The Chosen Two, Rene Breitbath …
credits
Artist: Gitte Verfuehrt
Title: Zwischenraum & Zeit
Label: symbiont-music
Format: 320 kbit/s, mp3, CBR
Cat.No.: sm026
Releasedate: 02.02.2012
Style: funk, techhouse, techno
Artwork: Fabian Foehn & Anne Boulangère
all tracks written & produced by Gitte Verfuehrt
guitars by Alex Kozmidi

---